Buddhism is a religion that originated in India and is considered a direct offshoot of Hinduism, much like Christianity is descended from ancient Judaism. Unlike Hinduism, however, Buddhism is non-theistic, with no reference to gods at all in its teachings. Instead it is a totally human centered faith, much like Humanism, and thus may be considered more a philosophy than an actual religion. But it includes the Hindu concepts of karma and reincarnation, which Humanists reject. Once stripped of its Indian centered cultural references, Buddhism spread throughout most of southern and eastern Asia.
Keep in mind that while the Dalai Lama is an international celebrity, it would be inappropriate to consider him the eastern version of the Roman Catholic Pope. It would be more accurate to think of him being more like the current President of the Southern Baptist Convention, Steve Gaines. Not quite mainstream compared to larger Christian groups, but still representative of Christian teachings. The main reason the Dalai Lama is so celebrated is because of him representing the struggle of his homeland Tibet against Chinese oppression.
Like Hindus, there are relatively few Buddhist temples outside Asia, so Buddhists may also find a spiritual home for themselves among Unitarian Universalists. Indeed, Buddhism is so popular among UUs that they even have a community for themselves: http://uubf.org/wp/
I know personally a Unitarian Universalist minister who is also a Buddhist: Rev. Alex Holt, who was interim minister at Westside Unitarian Universalist Church (Fort Worth) and later moved to Seattle, where he became interim minister of……Westside Unitarian Universalist Church (Seattle). He wrote an essay for a book about UUs who are also Buddhists:  Buddhist Voices in Unitarian Universalism.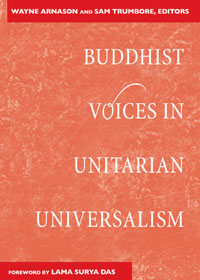 It is interesting to note that in India where Buddhism originated, the Hindu priests won back the loyalty of the people there not by denying the Buddha, but by proclaiming him to be an avatar of Vishnu, one of the Hindu gods, even though the Buddha never claimed that for himself and Buddhists themselves don't believe that either. Likewise, Baha'is claim that the Buddha is a "Manifestation of God" which is also a concept foreign to Buddhists. It should be noted, however, that there is nothing in Buddhism that requires rejection of theism; that idea is simply irrelevant to Buddhist practices.